Brands We
Proudly Feature: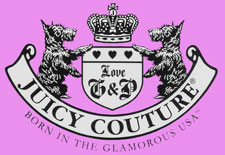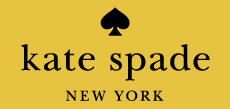 Don't be a Magoo!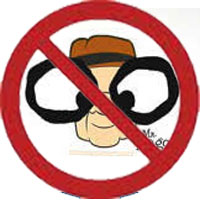 Trust our optician to ensure you have the perfect look for your prescription.
Eye Glasses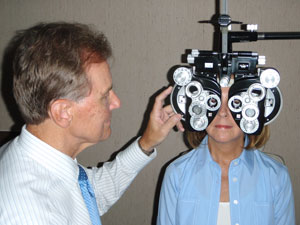 Our office has a wide variety of eye glass options. Whether your style is rimless, or you prefer a little more bling, we have a pair of glasses for you.
Custom lenses and frame selection are our specialty. When selecting a great pair of eye glasses, the key elements to consider are prescription, lens designs and treatments, lens materials, and frame size.
Eye Glass Prescription
The primary reason a person seeks eye care is because they don't see clearly. This can be due to an eye disease such as cataracts, diabetes, macular degeneration or an uncorrected refraction error such as myopia (nearsightedness), hyperopia (farsightedness), astigmatism or presbyopia (over forty).
An accurate refraction is necessary to determine the refractive status of the eyes by using a combination of lenses in a phoropter that provides the maximum visual acuity.
Below is an example of the optics of the eye and how a corrective lens changes the direction of light to focus onto the back of the eye (retina):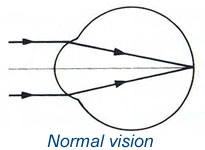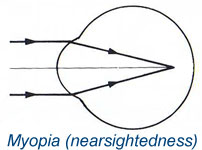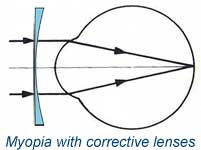 Lens Design
Single Vision Lenses
These are lenses that are prescribed for one focal length. They can be for distance, near, or intermediate for computer use.
Lined Bifocal or Trifocal Lenses
These lenses are designed for two or three focal lengths. Bifocals were invented by Benjamin Franklin and have not changed significantly.
Progressive Lenses
These lenses are multi focal and used to correct presbyopia without lines. These lenses use the newest technology to give the wearer the best possible and most natural vision in a multi focal lens.
New technology with digital design improves the optics on the front and back surface of the lens reducing distortion, enlarging the size of the reading area, improving contrast, increasing adaptability and providing clarity at all distances.
Lens Treatments
Visual acuity can be enhanced with anti-reflective lenses to reduce glare reflections and improve contrast. Tints help to absorb harmful UV rays, reduce light intensity and improve comfort for people sensitive to light.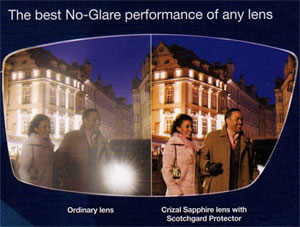 Polarized Lenses reduce reflections from flat surfaces which is helpful at the beach to see deeper into the water. Transitions Lenses automatically adjust to changing outdoor light conditions. We also custom tint lenses if desired.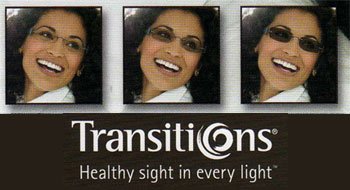 Lens Materials
Choosing the right lens material is a very important factor when selecting eyewear. High prescriptions can cause lenses to be thick and heavy. New high index plastics reduce weight and thickness of lenses. Making sure a frame is not too big helps to reduce weight and thickness.
Frames
Frames are another key element for a great looking and great fitting pair of glasses. We offer high quality frames that are both fashionable yet practical. We carry several name brands made from metals such as titanium and stainless steel that are light-weight and durable. Our selections will flatter any face shape.
Quality Assurance: We carry high quality frames known for their superior materials and construction.